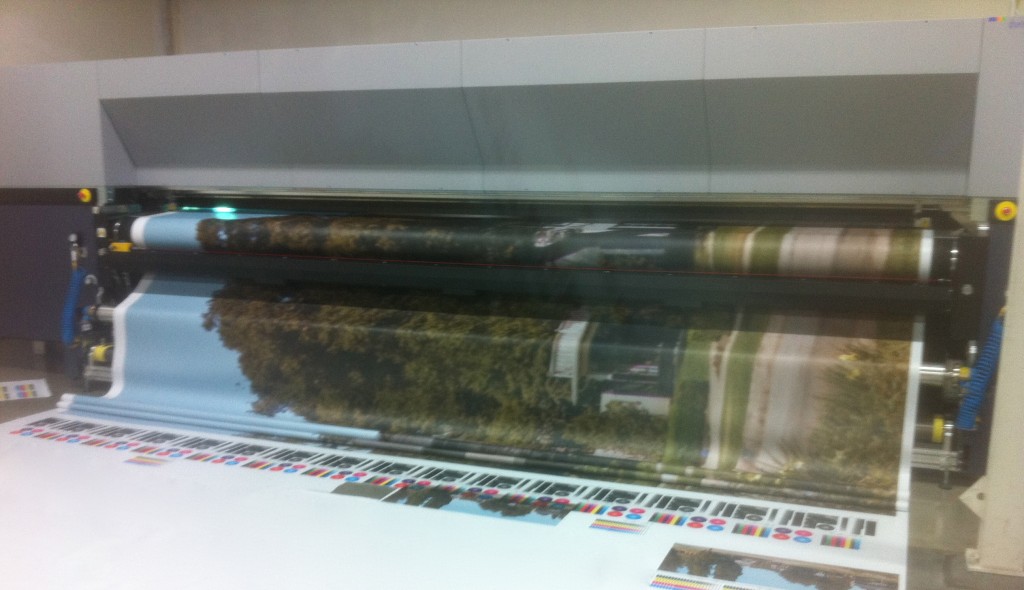 TRIO provides a full array of digital print services, utilizing our state-of-the-art equipment, and supported by our excellent graphics and print crew.
Utilizing Durst Rho500 technology, our grande-format operations are fast and efficient; no longer do clients need to wait in an unpredictable production queue as at other print shops. We work around-the-clock to meet client production needs.  Printed backdrops, billboards, banners, posters, vinyl cut lettering, stretched box art, murals, flatbed pieces, laminated items … we handle any printing a client might need.   Our grande-format equipment prints 16 feet wide, and our seamer allows us to fuse material together to create a finished piece of any size.  We've wrapped entire buildings along Fifth Avenue in New York City for a retail giant; these "construction barricades" are one of our many specialties.
Printed backdrops for film, television and commercial productions can be traditionally front-lit, or, with the assistance of our scenic artists, hand-painted on the reverse side for the versatility of a day/night effect when back-lit.
While many music tours opt for hand-painted backdrops, some prefer the budget advantages of printed backdrops, sometimes highlighted with UV or other hand-painted effects.  The combination of an in-house scenic art crew with cutting edge print capabilities allows us to combine the best of both genres.