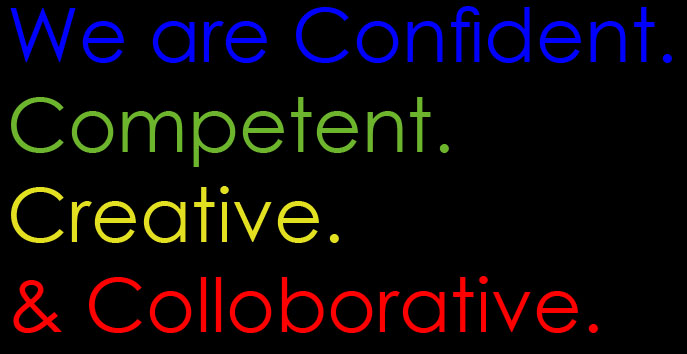 We thrive on the energy that is created when we collaborate with our talented scenic artists, designers, craftsmen, construction crew, as well as our clients… vendors… and fellow designers, artists and thinkers.  Inspiration is everywhere.  Team TRIO is strongest when we work with an open mind to new ideas, new colleagues, new ways to make art happen.
When TRIO was launched, Ed Strang was immediately joined by his extraordinarily talented group of artists and craftsmen, a group that has worked together for decades.  Leading the TRIO digital print, graphics, and design area is Jose Ramirez, Ed's right hand for over 18 years.  Fast, accurate, and creative, Jose is known also for his ease of communication and the instant bond he creates with clients; everyone loves working with Jose.  Jose relies on his talented and hard-working print services crew, led by Pepe Garcia.  Our print room is a busy, active place, and Pepe ensures that the crew stays on track and meets the ever-changing production deadlines.
In the early days, as TRIO set up studio space at our current location,  a 130,000 sf warehouse towards the back of the former NBC studio lot in Burbank, CA, one of our first tasks was to build our first scenic art paint frames.  Chris Wall, one of our talented scenic artists and a key early-member of Team TRIO, proved himself to be a renaissance man, as he shifted between continuing scenic projects  and actually building the first frames.  It was a fantastic day when Chris and the crew of scenic artists physically raised the massive frames into place.  This first frame installation at our home studio was a truly momentous day; having our core Team TRIO group to help out was really a chapter in our company memoir.
At TRIO, we work hard, and play hard.  Our work IS our play, and each new project brings new excitement – we enjoy what we do, and we commit completely to bringing our client's vision to life.  No dropped balls – we stand 100% behind our work product.  We're respected for our ability to anticipate challenges and ensure that projects exceed our clients' expectations.
And… we're really fun to work with.  Come join us!