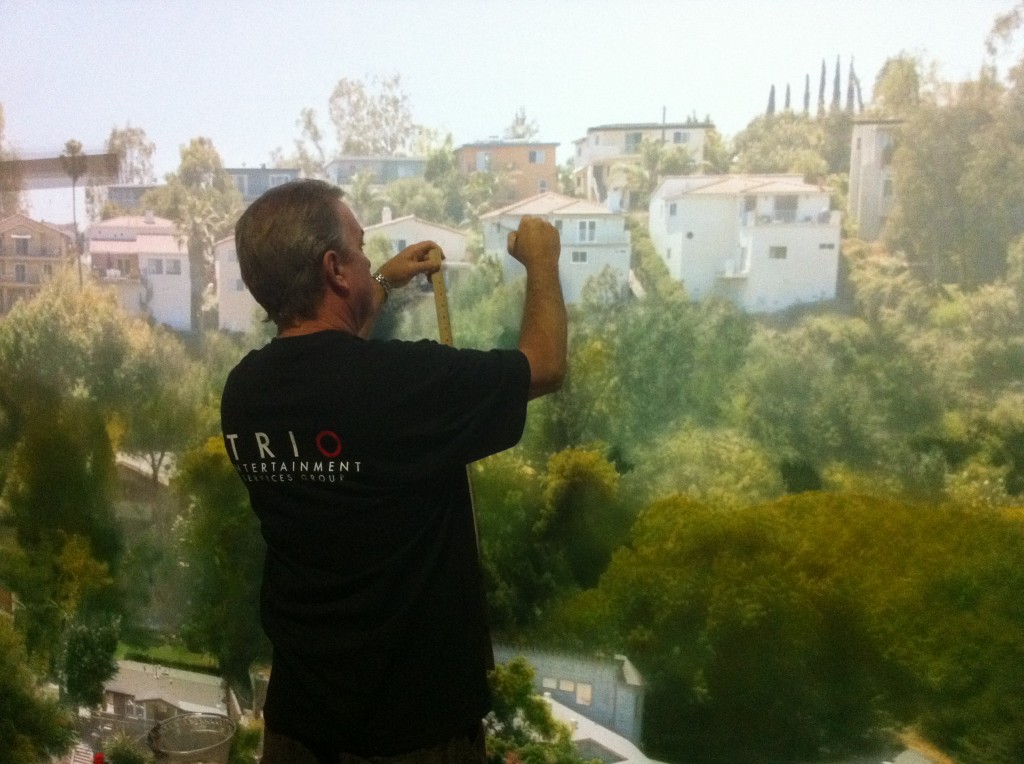 TRIO was founded by celebrated designer and scenic artist Ed Strang.  Ed's commitment to combine traditional scenic art mastery with ever-changing technology, resulted in the move to our new facility filled with state-of-the-art digital printers, traditional paint frames and a fully equipped production service studio.   TRIO fuses the best of traditional hand-painted scenic art with the range of possibilities available through technology.  As always, Ed Strang remains on the cutting edge of his field, bringing decades of experience as he continues to expand and innovate to give our clients the widest variety of creative options.
Ed is a third generation scenic artist, with over thirty-five years of experience.  He began his career in 1978, working in the "family business" at Warner Bros Scenic Art Department, taking on management of that department in 1988.  Leading a talented team of artists, Ed was the design force behind the massive expansion of the scenic art group over the next twenty-five years.  Ed's work can be seen in over 600 feature films and countless television and commercial productions.  Credits include film franchises series such as Lethal Weapon, Batman, Ghostbusters, Superman, Charlie's Angels, Back To The Future, Pirates of the Caribbean, Karate Kid, Iron Man, Die Hard, Spiderman and Jurassic Park, and individual feature films as varied as Lemony Snicket, Altered States, Disclosure, LA Confidential, The Matrix, Dick Tracy, A Few Good Men, The Perfect Storm, Beetlejuice, Million Dollar Baby, Inception, and Toys, to name just a few titles.  Recent films include Argo, That's My Boy, and The Lone Ranger.  Permanent installations of Ed's work appear in domestic and international movie theaters (including the Mann Chinese Theater, AMC Theaters, Wanda Group in China and Europe, Steiegler Associates International in Europe and China, Jinyi in China, and Shanghai-based Red Carpet theaters), theme parks (including Disney and Six Flags locations), restaurants (including RockSugar, WB Stage 16 at The Venetian, Clint Eastwood's Hog's Breath Inn, Ahi Sushi, Burbank Bar & Grill, and Hamburger Hamlet), various casinos (including the Venetian, Bellagio, MGM Grand, Mirage and Caesar's Palace in Las Vegas), private residences and corporate interiors, shopping destinations (including The Grove, The Americana at Brand, The Forum Shoppes at Caesar's Palace, and The Grand Canal Shoppes at The Venetian) as well as museums, libraries, and universities.   Ed has provided scenic backdrops and props for stage productions in Los Angeles and Broadway as well as regional theater groups.  His design and construction expertise has generated award-winning trade show booths both in the US and abroad, and he is known for his innovation in architectural design for restaurants and nightclubs, as well as elaborate party designs, for film premieres and private events.
Ed's enthusiasm for his craft and his generous ability to collaborate sets the tone at TRIO, as we continue to dramatically expand both our client range and work product offered.  Ed combines leadership and a strong artistic vision with a laid-back personal style that makes TRIO a fun, exciting place to work –  and brings out the most amazing, creative ideas… every day.